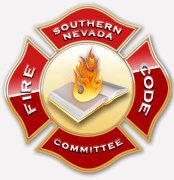 Mission:
To provide uniform enforcement of the adopted fire code(s) and related standards throughout Southern Nevada.
About Us:
The Southern Nevada Fire Code Committee was established in 1991 to provide regional consensus code and standard amendments, code interpretations, fire code and standard operational guidelines.
Contacts are for general questions regarding the organization or process for submittals and will not render any decisions on proposed code or stand submittals or interpretations.
Las Vegas Fire & Rescue
Contact:
Brian Halvorson
Assistant Fire Protection Engineer
Committee Chair
Las Vegas Fire & Rescue
Phone: 702.229.06761
Email: bhalvorson@lasvegasnevada.gov
Henderson Fire Department
Contact:
Henderson Fire Department
Phone: 702.267.3633
Email: @cityofhenderson.com
City of North Las Vegas Fire & Rescue
Contact:
Lucas Bartlett
Fire Prevention Inspector II
North Las Vegas Fire Department
Phone:
Email: @cityofnorthlasvegas.com
Clark County Fire Department
Contact:
Clark County Fire Department
Phone: 702.455.
Email: @clarkcountynv.gov